History and Overview
The SOAR after-school program at the International Prep Academy (IPA) in Champaign began in February 2006 in response to the needs of Latino immigrant families who requested extra support to help their children achieve academic success. Originally hosted at B.T. Washington Elementary School in Champaign, the SOAR after-school program moved with the district bilingual program to Garden Hills Elementary School in 2011 and continued providing academic support for Latina/o emergent bilingual children in grades 2-5. In the fall of 2015 the district bilingual program moved to the International Prep Academy, the new dual language school for the district, and SOAR moved with it. Now in its sixteenth year of operation, SOAR represents a successful ongoing collaboration between the College of Education and the Champaign Unit #4 School District that brings resources from the University of Illinois to address a need in the local community.
The SOAR after-school program at IPA provides literacy support and homework help to Latina/o emergent bilingual/biliterate students in grades 3-5 by pairing them one-on-one with volunteer tutors from the University of Illinois. Each semester approximately 100 dedicated University of Illinois students from a wide variety of academic majors volunteer their time weekly to provide the academic support to SOAR program participants.
The main focus of the SOAR tutoring sessions is on increasing emergent bilingual/biliterate students' engagement in reading. Students are given the opportunity to choose books to read and discuss with their tutors during SOAR. Among the reading choices are culturally relevant Spanish and bilingual books in a variety of genres including fiction, nonfiction, folktales, and poetry. Tutors ask comprehension questions to encourage and facilitate discussion about the books. After reading, the tutors assist the students with homework completion and enrichment activities.
While providing academic support, university volunteer tutors are able to develop skills that complement their course curriculum. These skills include critical thinking skills, interpersonal communication skills, collaboration skills, leadership skills, and learning to live in a diverse society.
Since 2006, University of Illinois tutors have logged tens of thousands volunteer hours with the SOAR after-school program.
Program Recognition
The SOAR program is highly regarded for its campus-community engagement, longevity, and impact and has enjoyed recognition from various entities across campus and in the community, including:
Illinois State Board of Education "Those Who Excel: Award of Meritorious Service"

Champaign County Latino Partnership – Most Valuable Community Program Recognition
University of Illinois Campus Award for Excellence in Public Engagement (CAEPE)
City of Champaign Service Together Achieves Results (STAR) Honoree
AERA Education Research Project Grant
What Teachers and Volunteers Are Saying About SOAR
Bilingual Teachers:
"The SOAR program has been providing our students with something that we as teachers can't always give them during the school day. SOAR gives them individualized, one-on-one attention from a respected adult, assistance with homework, and reading instruction. The tutors working with these students are able to give them advice about going to college, and what they need to do get there some day."
"I can think of no better program that has helped hundreds of students to excel in their education. Teachers have seen growth in their students not only in reading and math, but in motivation and self-esteem."
"The program has been extremely successful not only at building reading fluency and comprehension skills for our Latino students, but it has been immensely important in supporting the students' socio-emotional needs by connecting UIUC students with our kiddos. . . This program is an invaluable resource for our students and their families . . . The SOAR Program has made a tremendous and historic impact on the Latino community."
SOAR Tutors:
"I truly enjoyed working with the SOAR program this semester. Although my school load was hectic and stressful, I always felt the opposite when I came to SOAR every Tuesday. These kids put a smile on my face. . . SOAR has allowed me to make a difference in the life of a child who has also impacted me."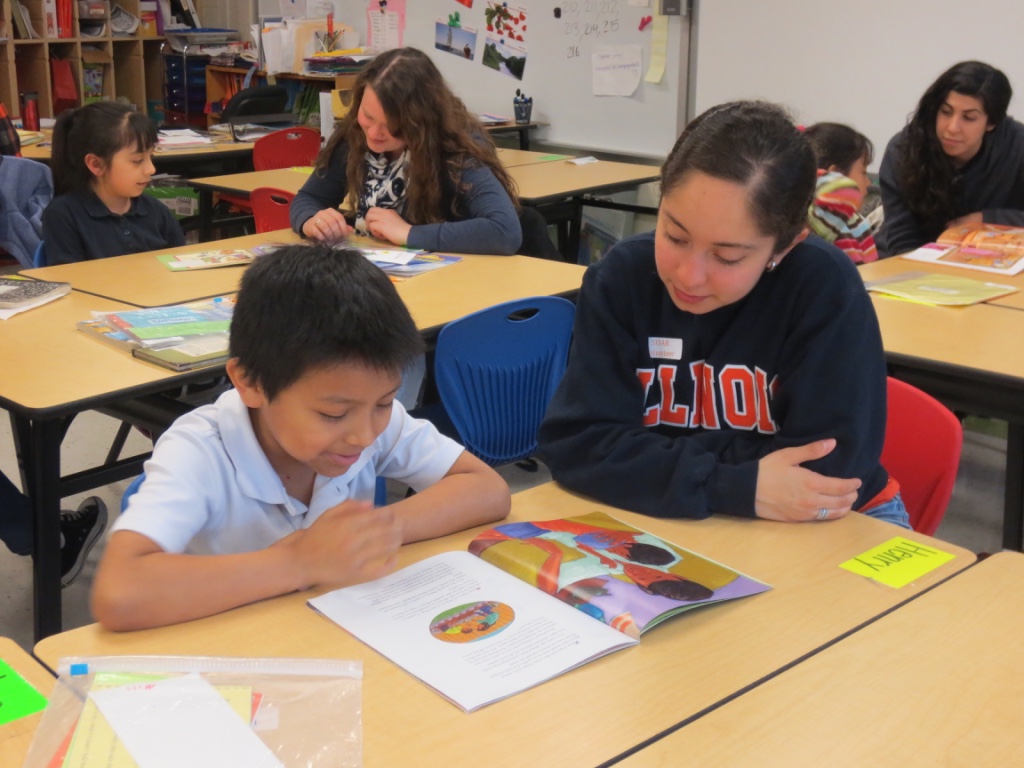 "This program combines two of my passions – the Spanish language and enlightening young minds. Even though I am a Spanish major I had difficulty finding a way where I can really put my Spanish to use. SOAR has given me the opportunity to not only utilize my Spanish skills but also have a meaningful relationship with a student. However, SOAR is much more than just helping a student with their homework. We are cultivating and supporting these children through educational skills and one-on-one interpersonal skills. In addition, I have learned life lessons from the child I work with such as patience, communication, and cultural awareness."
"Not only did I get to practice my Spanish in a real-life setting; I also got to interact in a meaningful way with the C-U community. For the first time in my college career I was truly able to take what I've learned and use it to help someone other than myself."
"As a student, the SOAR initiative has impacted me and my career choices dramatically. I truly feel that the University and its students have a commitment to the nearby community, and programs like SOAR allow students the opportunity to learn about diversity, real world issues, and how to apply the skills learned within the classroom."
U of I Spanish Professor:
"Once again, my Spanish students have learned so much through their work at SOAR. While there, they form relationships with the kids that help them see immigration and immigrants in a new light. In a world that presents immigrants as 'problems,' this positive experience is exactly what my students need."